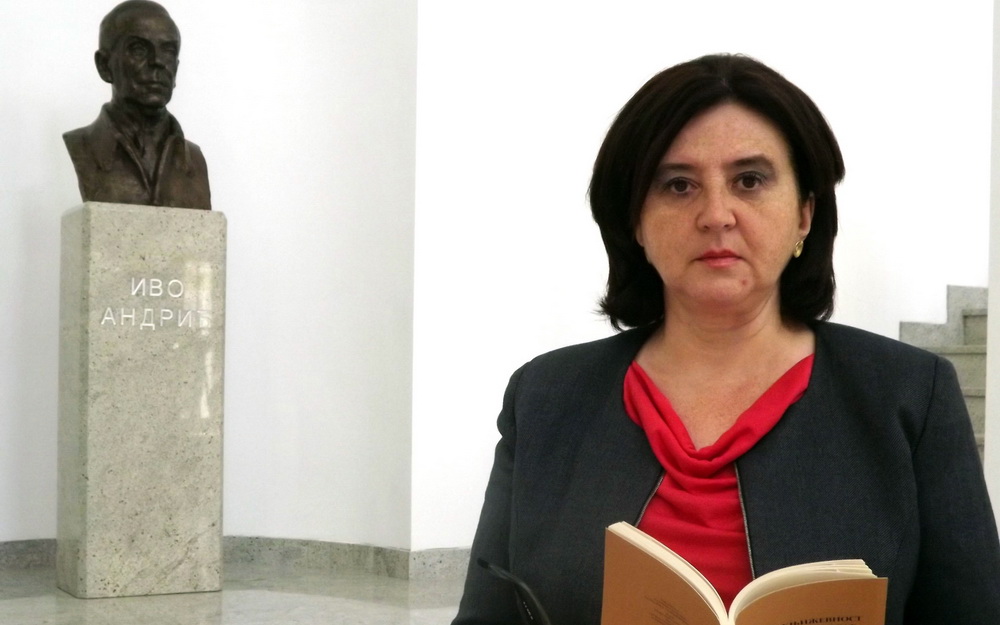 Prof Dr Aleksandra Vraneš said to SRNA that at a scientific conference "Serbian literature and the First World War" was successfully realized intention of the organizers that examination of Serbian literature appeared during the Great War and in the post war period was based on current scientific knowledge.
Vraneš said that it was about works of authors who were inspired by events related to the cause, course and consequences of the First World War.
"Prominent workmen of science, culture and education at the two-day meeting in Andrićgrad analyzed the aforementioned theme in the works of literary proved authorities, such as Andrić, Crnjanski, Ćosić, Nušića, Rastko Petrović, Veljko Petrović, Milan Kašanin, Pero Slijepčević, Ljubomir Simović, but also those to which theorists and historians of literature so far had not been given adequate attention, such as Milovan Vojičić, Milos N. Đorića, Miodrag Petrović," explained Vraneš.
She said that regardless whether it was a novel, poetry, short stories, memoirs and log or press notes, critical attention of exhibitors was preoccupied by semantic, linguistic, political, ethical and aesthetical dimensions of the work.
"About the scientific argumentation and provocative topics and approaches, in addition to the published Collection of summaries, will testify Collection of works which will appear later during this year in a newly launched edition of the Scientific Conferences of the Department of Literature of the Andrić Institute," said Vraneš, adding that the scientific conference, which was held on 1 and 2 July in Andrićgrad, was followed by an exhibition on the same subject, which was prepared by the Belgrade City Library.
Vraneš emphasized that the scientific conference held on the occasion of the 100th anniversary of Vidovdan's (St. Vitus, 28th June) assassination and the beginning of World War II, and in the organization of the Department of Literature of the Andrić Institute in Andrićgrad, which was created on the "honest idea and effort of Emir Kusturica to lay a solid "Moždanik i nasjenica" (a book by Vuk Karadžić) for the freedom and beauty of artistic momentum, thoroughness and originality and a scientific research."
Talking about future plans, Vraneš announced that the Department of Literature of the Andrić Institute, besides scientific conferences, would develop and other projects essential to the Serbian culture, and therefore the world's literary heritage.
"The Faculty of Philology, University of Belgrade, the Ivo Andrić Foundation from Belgrade and the Department of Literature of the Andric institute should begin work on the editing and publication of a critical edition of complete works of Ivo Andrić, for which will be used a digitized archive of Andric's handwritings," said Vraneš.
According to her, the plan of the Department is to publish three editions: Serbian classics / begins with the book of Vuk's texts, the editor is Dušan Ivanić, all Serbs and everywhere /, about Serbian classics, From the Literary Archives, as well as a scientific journal with an international editorial board.
SRNA – Tatjana Parađina